---
Panel Biophilic Infrastructure: Letting Nature Lead the Way

For all the ink and pixels spilled over the past year on political infighting about what qualifies as "infrastructure," one of the most notable omissions has been any real mention of the natural world. The biosphere we all inhabit is, fundamentally, the infrastructure for life itself. As we know all too well, humanity has, for the most part, neglected, destroyed and actively pillaged many of the natural systems that support our continued existence by cooking the climate, unleashing a looming micro-plastic apocalypse, triggering a tragic global decline in all biodiversity benchmarks and more. What will it take to turn our attention towards the rebuilding of our natural infrastructure, for the benefit of all life and human society? How can built infrastructure elegantly and respectfully engage with and support nature? The answers are not easy, and our understanding of these systems is only just scratching the surface of the evolutionary timescales that nature functions on. However, we know enough to get started – and, unsurprisingly, it often begins with letting nature lead. Join experts and leaders as we dive into what a more enlightened, effective, biophilic and biomimetic infrastructure conversation needs to look like.
With: award-winning environmental journalist and author of Eager: The Surprising Secret Lives of Beavers and Why They Matter, Ben Goldfarb; Pyrogeographer and Assistant Professor in the Management of Complex Systems Department at UC-Merced, Dr. Crystal Kolden; Director of Education and Community at TreePeople, Ariel Whitson. Moderated by Teo Grossman, Bioneers' Senior Director of Programs & Research.
November 13th | 12:45 pm to 2:00 pm
Panelists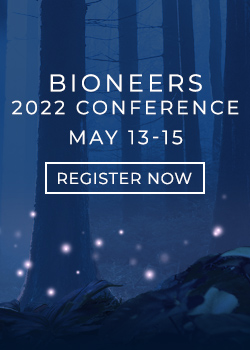 Let Bioneers be your hub for information and action regarding the world's most pressing social and environmental challenges: Subscribe to the weekly Bioneers Pulse email newsletter.