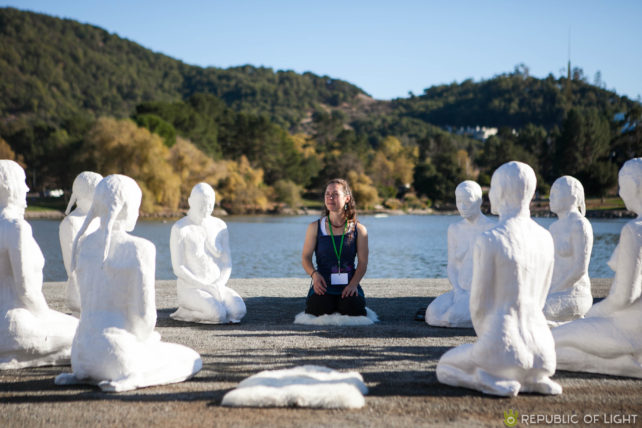 Bioneers Conference – Artist Application 2019
For Bioneers' 30th anniversary, we are excited for art to play a vital, celebratory and transformational role at the conference!
Our mission is to program the 2019 conference with captivating, compelling and inspiring art and we invite you to help us make this vision a reality.
What is Bioneers?
The Annual Bioneers Conference is where you get a front row seat into a thriving and regenerative tomorrow, today. The conference, celebrating its 30th year, is an engaging and inspiring environment of collaboration, with individuals of all sectors and disciplines, engaged in co-creating a regenerative  future. The Bioneers conference is where social, environmental and scientific innovators convene to present breakthrough solutions inspired by nature and powered by human ingenuity.
The Bioneers Conference fosters connection, cross-pollination and collaboration by bringing together diverse people and projects. We link strategic networks at the local, regional, national and international levels.
Bioneers conference attendance is 3,000+ with a large, vibrant social media audience and with year-round conference engagement via media and radio series production.
The Bioneers Conference will take place October 19-21, 2019 at The Marin Center, San Rafael California.
We look forward to your partnership and featuring your work.
We are looking for art in these five categories:
ART INSTALLATIONS FOR CONFERENCE GROUNDS: The Bioneers Conference grounds is a large, outdoor open space that is home to tents used for speakers and workshops, such as the Youth Leadership Tent and the Indigenous Forum. It is also where guests gather to eat lunch, collaborate, shop at the marketplace and rest in between sessions. Our goal is to curate the conference grounds with visually stimulating and thought provoking art. This is a very large space, so large pieces do well.
MUSICIANS: During the lunch hour, Bioneers will be featuring musicians playing on the lawn the attendees can enjoy while eating lunch. Only acoustic music, no drumming, due to presentations hosted during the lunch hour..
LIVE PAINTERS: We are looking for painters who would like to live paint outdoors to help activate the conference grounds. At the end of the conference, you have the option to include your painting in the silent auction for a shared split.
COMMUNITY ART PROJECT: We're looking for art projects that can be done outdoors and involve the greater Bioneers community, let's activate the space with community art! Examples include inviting guests to paint prayer flags, posters, murals, community mandalas, etc. Please consider re-usable materials.
SATURDAY NIGHT PARTY ROVING PERFORMERS: Every year Bioneers hosts a fun Saturday night dance party. This year, we'd love roving performers- such as hula hoopers, circus artists and walk around characters, or other great talent ideas to help create fun ambiance in the space.
Compensation
Accepted artists will receive tickets to the conference (valued at $850), an artist stipend ranging from $50-$500 to support installation costs, as well as features in our newsletter, conference program and social media promotion.
DUE DATE
July 15th, 2019 at 5pm PST
QUESTIONS
Any questions or comments, please email Polina@bioneers.org