The 2022 Bioneers Conference: How It Works & FAQ
As we look forward to the 2022 Bioneers Conference this May, we're excited to be able to provide engagement opportunities to match the needs of all participants. Considering joining us? Here's what you can expect from the Bioneers Conference this year.
Bioneers 2022 will be hosted at the Palace of Fine Arts in San Francisco, CA, during May 13-15. Due to the growing global nature of the Bioneers audience, major components of the conference will also be streamed live online via a virtual conference platform.
In-Person Bioneers Conference
Each day of the in-person Bioneers Conference consists of a richly produced and engaging morning of keynote presentations from Bioneers speakers, with arts and performance woven throughout. Following lunch, the conference breaks into two rounds of simultaneous sessions where attendees can take deeper dives into a variety of topics and issues, with opportunities ranging from panel discussions to hands-on demonstrations to interactive and participatory conversations. Evenings at the Bioneers Conference include film screenings and performances. Throughout the venue you can expect a vibrant experience, filled with art installations, cafes, hands-on activities, a bookstore, booths and vendors in the Bioneers Marketplace and stimulating conversation with fellow attendees.
Stay tuned here for additional updates and details regarding conference lodging, transportation and events. Register for the In-Person Bioneers Conference here.
Conference Grounds Map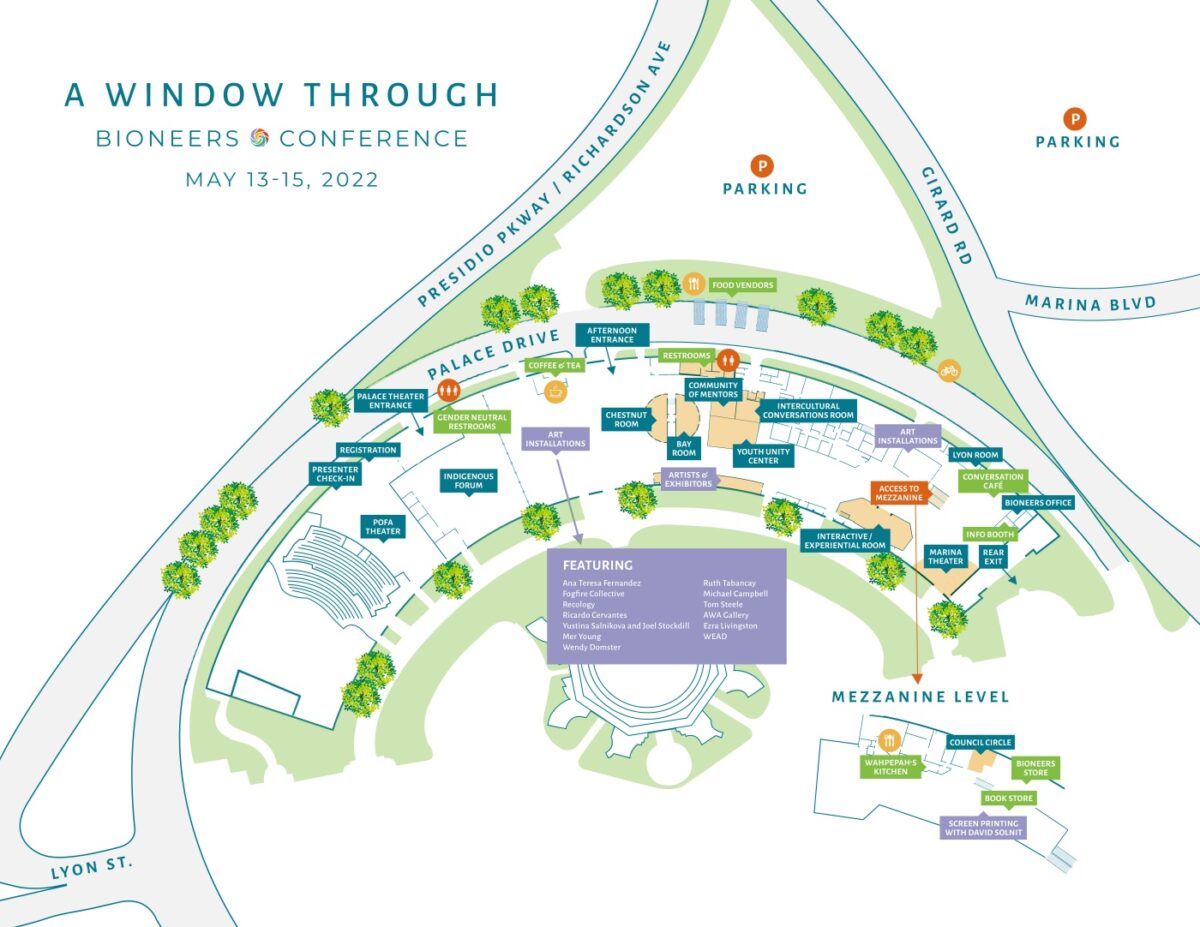 Virtual Bioneers Conference Details
Bioneers Virtual will feature a live HD multi-camera production featuring all the action on the main stage of the Palace of the Fine Arts (that's the full morning keynote program + two featured panels each day) along with interactive Community Conversations and a full on-demand film festival. You'll get access to on-demand recordings of each session shortly after the live event wraps up each day, and you'll have exclusive access to those recordings for three weeks after the event. View the Virtual Conference Schedule here and Register for the Virtual Bioneers Conference here.
Virtual Bioneers Conference Support
If you have any questions or need support while in the virtual venue, email bioneers@e2k.helpscoutapp.com for support.
COVID Policy & Protocol
We are building a community together at Bioneers each year and we respectfully ask that all attendees commit to caring for themselves and each other by following the COVID-19 protocols laid out here.
On Site Food Vendors
Drink Options
Please bring your own reusable water bottle to the conference. Bottled water will not be available. There will be water stations on the conference grounds provided by US Pure Water where you can fill your bottle. You can also purchase beverages from vendors and Marketplace exhibitors.
How Do I Get to the Palace of Fine Arts in San Francisco?
We're happy you asked! Please take a look at our Transportation Information page.
Work Exchange
Would you like to work an 8-hour shift behind-the-scenes at Bioneers and attend the rest of the conference? Apply for a work exchange position here: https://forms.gle/6DdnPnTFVqrFHb13A
Lodging
The Palace of Fine Arts is located at 3601 Lyon St, San Francisco, CA 94123. There are many more hotels and lodging options in the immediate area and the venue is easily accessed from other parts of the city via public transit.
Hotel Zoe Fisherman's Wharf
(2.7 miles from Palace of Fine Arts)
425 North Point Street, San Francisco, CA, 94133
Tel: 415-561-1100
Hotel Zoe is offering Bioneers attendees 20% off their best available rates, use link: Hotel Zoe.
Cow Hollow Inn
(1.1 miles from Palace of Fine Arts)
2190 Lombard Street, San Francisco, CA 94123
Tel: 415-921-5800
Website
Chelsea Inn
(0.9 mile from Palace of Fine Arts)
2095 Lombard Street, San Francisco, CA 94123
Tel: 415-563-5600
Website
The Bioneers Conference used to be in Marin and in October. Now it is in May and in San Francisco. Why the big changes?
Why May?
In all honesty, climate change actually has something to do with it. As those living in California and across the West are more than well aware, wildfires are increasingly impacting the day-to-day lives of millions each year. The twin realities of climate change and a legacy of backwards forest management have combined to steadily increase the quantity and intensity of fires in California and throughout Western North America. The Bioneers Conference was nearly canceled twice in the past five years due to heavy smoke and, in one case, the venue being utilized as a Red Cross Evacuation Shelter. In addition, as a primarily outdoor event in Marin, we had originally chosen that time of year because rain is fairly unlikely. The combination of several near-miss cancellations combined with a desire to not have an outdoor event rained out eventually felt like we were just "crossing our fingers," which is not a tenable strategy (not to mention the karmic issues related to hoping against rain during a mega-drought in fire season). So, after two years of virtual events, we're excited to see what a spring Bioneers Conference looks and feels like.
Why the Palace?
Many people are familiar with the Bioneers Conference as an event that takes place at the Marin Center each year. For nearly two decades of our 33-year history, the event was located in Marin. However, a combination of factors led to our decision to try a different location, among them the reality that the Marin Center used the pandemic as an opportunity to invest in seismic upgrades for their facilities meaning large parts of the venue are unavailable for use. The Palace of Fine Arts in San Francisco is a beautiful facility in a wonderful location. It is on several public transit lines, the adjacent park is magnificent, and there are numerous hotels and restaurants within walking distance. This year actually marks a return to the Palace, as some of the early Bioneers Conferences were hosted at the facility prior to our move to Marin.