---
Panel Lessons from the Underground
We humans tend to look mostly around, sometimes up, and occasionally down, but even then, only at the surface of things. It turns out, however, that all of life on Earth actually depends on the extraordinarily dynamic life hidden beneath our feet, in the incredibly complex interrelationships of plants, bacteria, fungi, insects and minerals that make our continued existence above ground possible. In this session three of the world's leading specialists on different aspects of those underground ecosystems will share their cutting-edge research. With: Suzanne Simard, Ph.D., Professor of Forest Ecology at the University of British Columbia, one of the planet's leading experts on the synergies and complexities of forests, and a highly influential, world-renowned pathfinder on the frontier of plant communication and intelligence, and author of the current best-selling Finding the Mother Tree: Discovering the Wisdom of the Forest; Anne Biklé and David R. Montgomery, a wife and husband team of scientific researchers whose groundbreaking work on the microbial life of soil has revealed its crucial importance to human wellbeing and survival. Dave, a professor of Geomorphology, is the author of the seminal Dirt: The Erosion of Civilizations, and Anne, a biologist and science communicator, co-authored The Hidden Half of Nature: The Microbial Roots of Life and Health. Their latest collaboration, What Your Food Ate, to be published spring 2022, tells the sobering and inspiring story of how agriculture can help restore health to the land—and ourselves.
November 13th | 12:45 pm to 2:00 pm
Panelists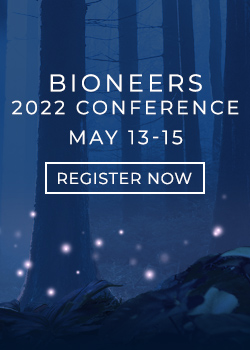 Let Bioneers be your hub for information and action regarding the world's most pressing social and environmental challenges: Subscribe to the weekly Bioneers Pulse email newsletter.