---
Planetary Dance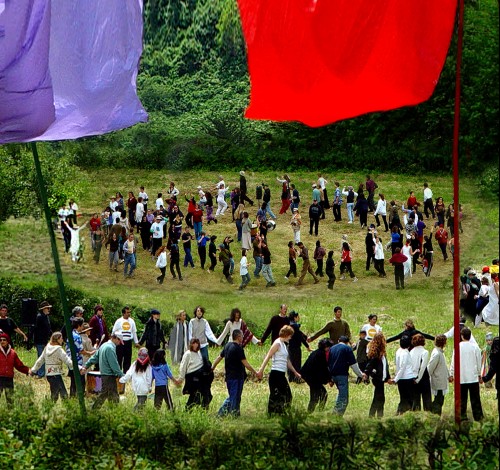 Daria Halprin leads us in this legendary, powerful ceremonial dance of peace co-created by her mother, world-renowned dance pioneer and revered teacher, Marin's own Anna Halprin.
Planetary Dance Dedicated to Community Healing
In large group dances, something exceptional often occurs. When enough people move together with a common pulse and a common purpose, a profound force can take over. Indigenous cultures have always evoked this power that dance and community spirit have to offer, a power that can renew, inspire, teach, and heal. That same tradition and belief underlies the Planetary Dance, whose purpose is to awaken people to the need for peace and to honor all life.
This is a simple dance that everybody can do. As we all move to the steady heartbeat of the drummers, we become one collective body. Each step upon the Earth becomes a prayer for peace and social transformation.This community dance ritual has been performed for the past 39 years in over 40 countries. It will be facilitated by Daria Halprin with master musicians Barbara Borden, Claudia Cuentas, Jahan Khalighi and Dohee Lee.
Planetary Dance is a participatory community ritual dedicated to peace and honoring of all life, Created by Dance Pioneer Anna Halprin, it is being enacted every year in more than 40 countries. VIEW : https://youtu.be/cq9Qvk90QvI
Facilitator: Daria Halprin, co-founding director of Tamalpa Institute, dancer, teacher, and author, is among the leading pioneers in the field of movement/dance and expressive arts education and therapy. Her work bridges somatic psychology, movement/dance therapy, expressive arts therapy, community-based arts leadership development, social change and performance. Bringing a life-long practice in the arts to her work, published writings include: Coming Alive; The Expressive Body in Life, Art and Therapy; contributing author Expressive Arts Therapy: Principles and Practices; Poesis: Essays On the Future of the Field; Somatics and Spirituality. www.tamalpa.org
Musicians :
Barbara Borden, drummer, performer, composer and teacher, is a veteran of the San Francisco and women's music scene. She is the subject of the documentary film, Keeper of the Beat: A Woman's Journey Into the Heart of Drumming. www.barbaraborden.com
Claudia Cuentas is an artist, educator, somatic practitioner and researcher from Peru. She has been singing and dancing since birth, inspired by sound, the healing arts and the ability of the human spirit to overcome difficulty and transform it into new life. www.claudiacuentas.com
Jahan Khalighi musician and co facilitator is a poet, performance artist and youth educator. He is a leadership member of Chapter 510 Oakland, California Poets in the Schools, and performs internationally. Portions of his work can be viewed on TedEx Sonoma, Dreaming at The Edge of Collapse, Tamalpa You Tube www.tamalpa.org. and www.dancesforchange.org
Dohee Lee weaves her multiple virtuosities in drumming, dancing, and singing into immersive ritualized theatrical creations. She is an internationally acclaimed performance artist, founding director of Puri Arts and is on faculty at Tamalpa Institute. www.doheelee.com
Cairo McCockran is an Oakland based drummer/Jazz-percussionist and DJ. He began his career as a member of E.W. Wainwrights African Roots of Jazz Youth Drummers and currently plays with Steve Lucky and the Rhumbs Bums.
October 19th | 6:15 pm to 7:00 pm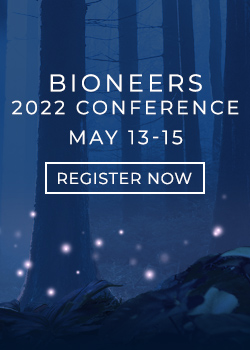 Let Bioneers be your hub for information and action regarding the world's most pressing social and environmental challenges: Subscribe to the weekly Bioneers Pulse email newsletter.