---
Transforming the Food System
The world faces a confluence of crises—climate disruption, resource depletion, loss of biodiversity, food insecurity, seed industry consolidation, dying oceans. Fixing the global food system would make one of the most significant contributions to mitigating many of those calamities. A truly stellar, eclectic group of food systems thought leaders/activists/innovators will share creative responses to transforming the food system so that it genuinely serves people and the planet. With: Gary Nabhan, author, researcher, professor, farmer, genius, one of our era's greatest agricultural ecologists and ethnobotanists; Bren Smith, co-founder/Executive Director of Greenwave, owner of Thimble Island Ocean Farm, brilliant pioneer of 3-D Restorative Ocean Farming; Karen Washington, co-owner of NYC's Rise and Root Farm, one of the nation's legendary pioneers of urban farming; Severine von Tscharner Fleming, Director of Greenhorns, founding Board President of the Agrarian Trust, one of the nation's leading advocates and activists for young farmers.
October 19th | 2:45 pm to 4:15 pm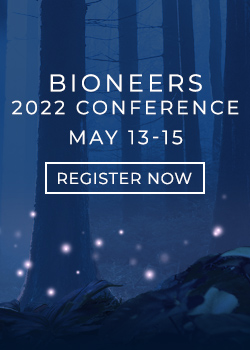 Let Bioneers be your hub for information and action regarding the world's most pressing social and environmental challenges: Subscribe to the weekly Bioneers Pulse email newsletter.