---
Working our Way toward a Better World, One Bite at a Time
Nothing is more central and visceral to the human experience than eating. Recent decades have seen a sea change in awareness about the crucial importance of what we eat, how and where our food is grown, and by whom. Making radical changes to our entire system of agriculture and to societal attitudes toward plants, animals and the entirety of the natural world will give us the chance of emerging from our current crises and ushering in the birth of a life-affirming civilization. In this session, two extraordinary food revolutionaries tackle these and other related issues. With: Alice Waters, legendary, highly influential chef who has been a leader in radically improving American cuisine's social and ecological impacts, as well of course as its gustatory and nutritional qualities; Bryant Terry, award-winning chef, educator and author renowned for his activism to create a healthy, just, and sustainable food system, Chef-in-Residence at the Museum of the African Diaspora (MoAD) in San Francisco.
April 7th | 4:45 pm to 6:00 pm
Panelists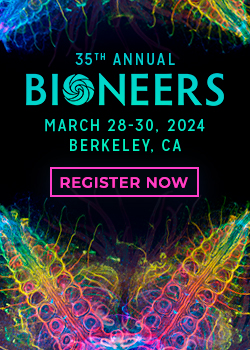 Keep Your Finger on the Pulse
Our bi-weekly newsletter provides insights into the people, projects, and organizations creating lasting change in the world.